TUTORIAL + PHOTOGRAPHY BY AMY NADINE, GRAPHIC DESIGN BY EUNICE CHUN
I know a lot of our readers are still intimidated by contouring and highlighting and if you're one of them, this tutorial is for you! There are many different ways to highlight and contour different features, depending on which ones you want to pull forward (highlight) or push back (contour). In case you missed it, check out my C & E Tutorialfrom last year for another really easy version. But if you're still thinking to yourself "I'll never take the time to do that," then try this!
TOOLS:
Lowlight Sculpting Cream — I love Becca's Lowlight Sculpting Perfector because it's not orange-y and comes in two universal shades.
Concealer (Two Shades Lighter) — I used Bobbi Brown Face Touch-Up Stick because it's really creamy and comes in shades for every skin tone.
Kabuki Blending Brush — Wait until you get your hands on Sigma's 3DHD Kabuki Brush! Its angular tip helps cling to each feature like no other brush before it. I also used the smaller precision version to draw the contouring triangles on the cheeks and the highlighting triangle on the chin.
Egg-Shaped Sponge — By now you know I never do a full makeup application without a dampened Beauty Blender for the smoothest foundation application possible!
Foundation — Right now I have two foundation obsessions: Dolce & Gabbana's new Lift Foundation (used on Rachel above) to fake the most beautiful skin possible andLaura Mercier Smooth Finish Flawless Fluide Foundation for the thinnest foundation that actually gives full coverage .
Cream Blush — I used MAKE UP FOR EVER HD Blush in Peachy Pink.
STEPS:
Before you apply foundation (but after primer if you're a primer girl), start by drawing two upside-down triangles underneath the eyes with the concealer stick as demonstrated above.
Draw a third upside-down triangle on the lower half of your forehead also with the concealer stick..
Draw a sideways right-angled triangle just under each cheekbone with the lowlight sculptor and a precision brush. Think of it as a "support" that holds up the bone. Really it's creating a shadow to make the cheekbone look more pronounced.
Draw a sixth triangle with the concealer stick on the chin just below the lower lip. You can do steps 1-4 in any order.
Blend blend blend by swirling the kabuki brush along the edges of each triangle.
Once every thing is blended, pump a few drops of foundation in the palm of your hand and dip the egg sponge in a few times to load it up. Now stipple (press) the sponge lightly over everything, concentrating again more on the edges of each highlight and contour than actually going over them. And of course fill in the areas that are bare.
Finish by smiling in the mirror and applying the blush on the top half of the apples and along the area in between the highlight and the contour (if you look at the cheekbone, the highlight is just above it, the contour just below it and the blush goes directly on it).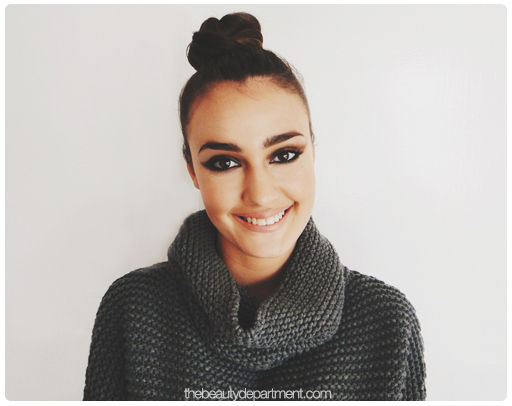 ---